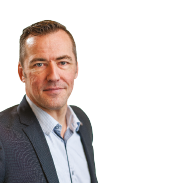 Voor meer informatie neem contact op met:
Niek Aarts, General Manager Field Service Benelux
WORKING SAFELY

WITH GAS
(OR LEARNING TO DO SO)
Working with gas systems - on board and on land - involves risks. This was confirmed recently when a valve broke off from a system that proved not to be pressure-free.
Fortunately, things went well, but the incident did lead to the development of a safety flash, based on our TOM safety campaign. We are also working on an extra safety training course specifically for gas systems, which will be available to all service technicians before the summer.
REPORTING INCIDENTS IN WECARE
The situation with the gas valve was reported immediately in WeCare. In this system, we collect information and track all incidents that threaten the safety or health of our employees. It is very important that a report is filled in as completely as possible, so that we can give a more specified follow-up and prevent new unsafe situations. Office, field and workshop employees can also use the Synergy Lifeapp. The Mobility app also has a provision for safety issues.