Wärtsilä
Enabling sustainable societies with smart technologies.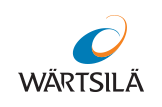 With our technical expertise and involved employees, we create complete lifecycle solutions for the maritime and energy markets. As a service-driven organization, the customer is paramount, and we believe in market-driven, sustainable solutions: we call this our Smart Marine Ecosystem vision.
Wärtsilä's purpose is enabling sustainable societies with smart technologies. We shape our markets by generating transformative results through collaboration, partnerships, market insight and active engagement in ecosystems. We care about the communities

THE WORLD IS OUR WORKING AREA. WE ARE LOCALLY INVOLVED AND APPROACHABLE.

From the heart of the Rotterdam Harbour, we focus primarily on all of the requests, service and maintenance from the complete Wärtsilä propulsion portfolio and on digital applications for the maritime industry in the Benelux.
Consider, for example, monitoring and online services, bespoke advice, parts, maintenance, repairs, rebuilding of both propulsion products and engines, and our navigation, communication and entertainment offerings.

In addition to our on-site experts, we also have our docks in Schiedam, and specialist workplaces in Schiedam, Harlingen, Stellendam and Kruiningen and we provide repairs and maintenance at 'Antwerp Dry Docks'. So we're always nearby - 24/7.
Our knowledge of propulsion and analysis solutions for energy management systems for the maritime industry comes from our worldwide Technology & Services Centre in Drunen, which is also the location of one of the ten global Land & Sea Academies.
Wärtsilä's worldwide distribution centre for spare parts is in Kampen. In Zwolle we focus on energy solutions for Africa and Europe. We also have in-house knowledge of the classical brands such as Stork Werkspoor Diesel, Deutz, Bolnes, Sulzer A/S four-stroke and our subsidiary QuantiParts, also located in Zwolle, provides parts and service.