JOIN W4U!
W4U is the personnel association in Wärtsilä Netherlands. Around six times a year, it organises events which have nothing to do with daily work activities. In this way, W4U brings colleagues together outside work. Secretary Celine van Acquoij says, "People get to know each other in a completely different way. We organise a lot of fun things, and you don't have to talk about your work. In fact, we'd even rather you didn't."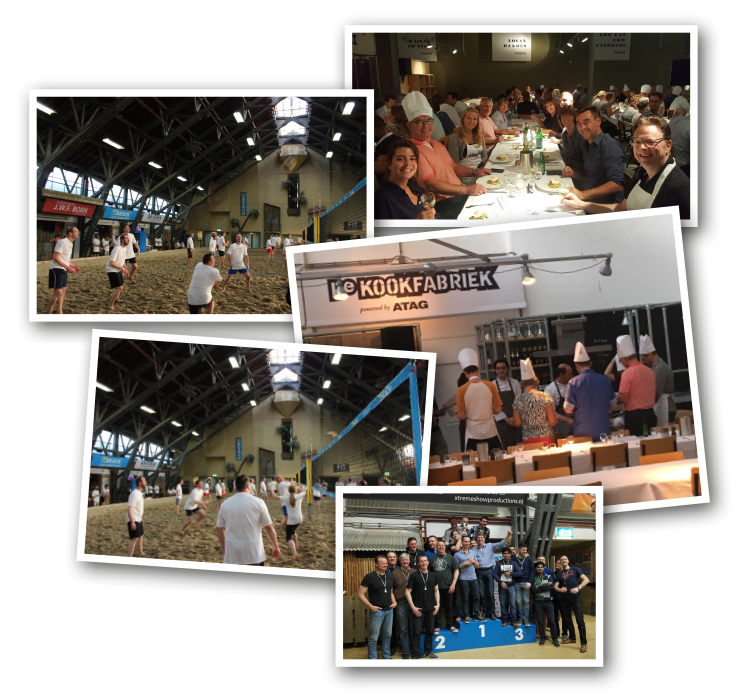 "Everyone is always so busy, working hard and continually focusing on their work. Sometimes it's nice to just let it all go and get to know your colleagues in a different way. It's fun, and in interdepartmental events it's nice to be able to put a face to a name. In the end, I think our activities contribute to a good work environment and that this perhaps allows us to retain colleagues. However, that's not the most important factor. We started straight off the workplace, without any interference from above, so the aim is above all to have fun, relax and enjoy ourselves."
From cook-off to ice karting
Since everyone has busy schedules, W4U limits the number of events: generally to six times a year. Some are open to all of Wärtsilä, others only to own locations. Celine: "We don't want people to feel pressured into taking part, the whole point is that it should be fun. That's why we put together a varied programme each year, so that's there's something for everyone. We're very serious about compiling such a varied programme. Some people are into music, others are into sports or a theatre show, then there are events with snacks and drinks, such as the hugely successful national cook-off last year. And of course, the Saint Nicholas celebration every year."
New traditions
The Saint Nicholas celebration is not the only tradition at W4U. The interest in the Vrienden van Amstel live concerts has become so great (there are 150 tickets available and a waiting list every year) that this event has been listed for a couple of years now. The annual beach volleyball tournament, involving around 100 players, has also grown into a favourite activity. Celine: "People start putting teams together months in advance, and thinking up creative team names. The interaction between the teams is really funny to see, not only during the tournament, but before and afterwards too."
From small to large
Members are sent a survey each year asking for their suggestions. Some highly original ideas have been received, such as karting and the escape room which is scheduled for 2019. Celine: "We would rather organise just a few events each year and make them really good. The number of participants varies enormously from one event to another. From 15 people who go to see a performance in a local theatre, with drinks afterwards, to 150 people whom we take by coach from all over the country to the Vrienden van Amstel concert. So, in the scale of the activities too, there's something for everyone."
Everyone can join
Around 600 of the 800-900 employees of Wärtsilä Netherlands are members of W4U. Celine: "That's quite a lot really. Of course, it would be wonderful if everyone were to join. It's so nice to get to know your colleagues in a more relaxed situation! In addition to a membership fee, we ask a small supplementary charge for some of the events; we don't have the means to pay for 150 tickets for the Vrienden van Amstel live concert, for example. But that supplementary charge is always much less that you would normally pay. So really, just by taking part in a single event, you will already have covered your membership fee."
LISTINGS FOR 2019
January: Vrienden van Amstel live concert
Spring: national beach volleyball tournament
June: drinks or barbecue at each location
May or September: escape room! Details follow. Check www.w4u.nl regularly and also WTV.
Autumn: local events such as karting, darts and/or theatre.
December: Saint Nicholas celebration
NEW WEBSITE!
Since the summer, you can find the W4U listings on the new website www.w4u.nl. You can also register for events there. If you decide to take part in an event with a supplementary charge, you can pay that easily through iDeal. Nice extra: if you're logged on, you also have access to photos of past events.
Do you work for Wärtsilä Netherlands? You're eligible for membership of W4U and you're very welcome!
Registering couldn't be easier at www.w4u.nl or more affordable: membership will cost you only 2.50 euros a month. Wärtsilä Netherlands contributes the same amount for each participating employee. This enables us to keep the supplementary charges for events low.
W4U COMMITTEE
The W4U Committee consults with the local event coordinators once a month. The committee consists of:
Chair:

Wim Evenhuis

Secretary:

Celine van Acquoij

Treasurer:

Ivonne van Engelen – van Dun
PER LOCATION
W4U has two event coordinators at each location:
Schiedam/Kruiningen/Harlingen:

Kadir Ozdemir and Robert Ton

Zwolle/Kampen (WGLS/WNL/QP):

Erwin Hogenbirk and Simon Bouwman

Drunen:

Tim Lathouwers and Dorus de Peffer

Rotterdam:

Anastasia Kalisperis en Belinda van Huygevoort